Online Sports Uniform Ordering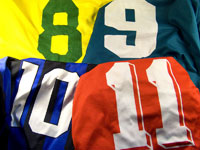 Accept sports uniform orders with online sports registration forms. The Orgs Online sports registration system makes it easy to list sports uniforms (and equipment) on the online sports registration form.
List different sports uniforms (and equipment) offerings for each sport.
List items participants can buy.
List items to get sizes -- when uniform or equipment are provided at no charge by the sports program.
The online sports registration system records uniform (or equipment) orders as they are submitted online. To view orders (or sizes) run the instant access uniform reports. The summary orders report shows how many of each item is needed. The detail report shows what each participant submitted. When online payments accepted, they are automatically credited to the family account.